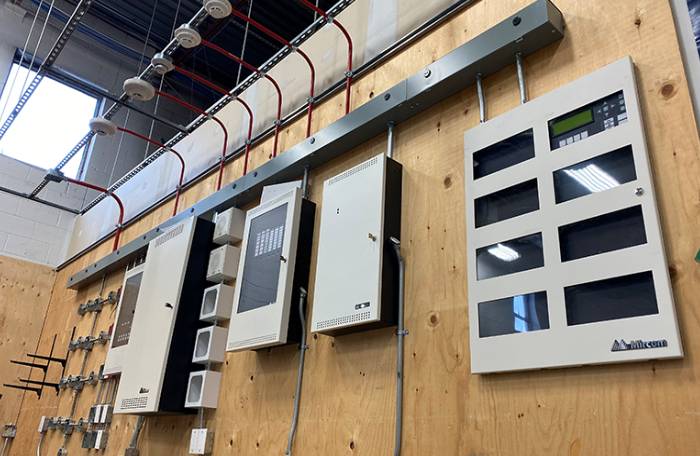 The Importance of Continued Hands-on Training in the Electrical and Fire Protection Industries
There are constant advancements in the manufacturing of more safe, reliable, and user-friendly electrical and fire protection equipment. As a result, Com-Plex Systems believes that our field employees, those responsible for installing and servicing electrical and life safety equipment, receive periodic training to allow them to become familiar with new and advancing products & procedures before stepping foot on the jobsite. This was the driving factor in our decision to grow our training and development efforts.
Com-Plex Systems has assigned a dedicated Health and Safety Manager who is responsible for implementation and management of our integral health and safety practices as well as tracking of industry training and course management for every member of our team.
Another asset we recently developed and utilize is an in-house training facility. This mock fire alarm and electrical system allows trainee and apprentice level technicians to sharpen their skills and practice for upcoming exams. Additionally, the training facility allows senior fire alarm technicians and electricians to experiment with and analyze the latest in industry equipment before installing such equipment at a client's property. The space is also beneficial for mandatory continuing education courses provided by industry organizations, as well as in-house training sessions.
We strongly believe in creating an environment where our team members feel comfortable and eager to learn, ask questions, and continuously develop their skills. This aspect of our organization is constantly evolving and sets us apart from our competition in providing high quality service to our many customers.
To learn more about our development practices please contact us at info@com-plex.net
Contact Us
5466 Gorvan Drive, L4W 3E8
Mississauga, Ontario,
Canada L4W 3E8
(905) 212-1478